The Top 3 Best and Worst Exploration Targets in the World
"It's easier to sell cotton candy than it is to sell broccoli"
– Marco Rubio
It is much easier to get investment funding for gold, copper and silver mining projects than for minor metals. Investors understand these commodities and they have a ready-made market.
If, however you are going to explore for graphite, fluorspar or tantalum, you will need to know the market and have specialist buyers for your product. You will also need to find investors to fund your project who are interested in and understand these commodities.
The World's Best Commodity Price Investing Advice
"A commodity producer should be comfortable being exposed to prices."
– Harold Hamm
Commodities that are "hot" at this moment will usually attract investment. So, if the gold price is rising (as in the graph below) it is much easier to get funding for an attractive gold project than say an iron ore project, which might be falling. In recent years, lithium is in demand for a new, growing trend like battery storage, and before that rare earth elements have had their recent hot investing streak.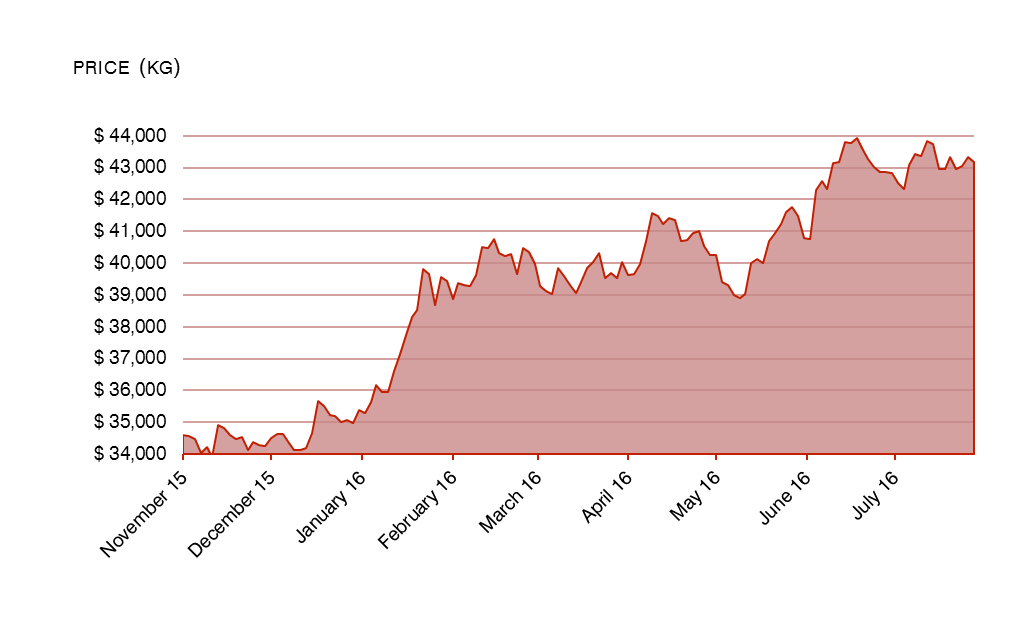 Figure 9 Gold price per kg
If you are looking to invest in a project that will find funding, it is often best to stick to known commodities that are well understood by the market. These include, copper, gold, silver, as well as others such as zinc, lead, aluminium, iron ore, coal and so on. It is best to look at trends in the pricing of these commodities and decide if they are attracting investment or not.
Specialist minerals such as graphite, fluorspar and manganese can make a lot of money for investors and mining companies alike, but they need to be understood by operators and investors alike.
2 Sure-Fire Supply and Demand Secrets That Work
"Supply always comes on the heels of demand."
– Robert Collier
One reason why it's easier to find investment for well-known minerals is the supply-demand situation. Gold, copper, silver, aluminium, lead and zinc are priced on the London metal Exchange and in Shanghai.
Everyone knows the price for these metals and there is a ready market for such commodities therefore prospective mining investors know and understand the commercial value of the commodity.
If you are dealing with industrial minerals such as graphite, phosphates or fluorspar, investors need to understand the market. Although these specialized commodities can be lucrative the sales contracts are specialised.
Prices are usually negotiated on an individual basis between the supplier and the consumer, not on international exchanges so prices vary according to the product and destination.